We have a continued commitment towards our native wildlife.
Being nestled between two National Parks we often encounter a lot of wildlife. At Heathcote Veterinary Hospital we have a continuing commitment towards our native animals. We happily accept all wildlife for medical assessment, treatment and rehabilitation where possible.
We work closely with WIRES and Sydney Wildlife to try and provide the best possible outcome for all native wildlife. We will readily see all native mammals, birds and reptiles. Dr Rebecca Robey is also vaccinated to handle flying foxes and other native bat species.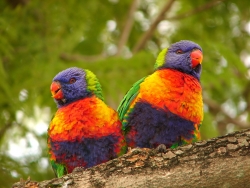 For more information on rescuing and rehabilitating injured wildlife please visit WIRES or Sydney Wildlife.
Please note that it is illegal for any member of the public to keep or care for native wildlife without proper certification.